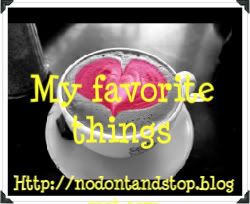 This week's installment of My Favorite things is going to be about Music, more specifically my Favorite songs...with the amounts of diffferent music I like, there is NO WAY I could make a list of my all time favorites...I'm thinking Favorite songs with have to be a repeated list. Music to me is like a sound track to my life....I'm always singing SOMETHING and songs always transport me back to a specific time and place as if i were actually there... Each song name has a link to You Tube so you can rock out with me, or skip if you chose to!
1.
Benny and the Jets
- Elton John: Oh god I love this song, you will catch me singing this song on a daily basis, and faghettaboutit if the song comes on the radio or something...you're gunna get embarassed because I WILL be singing and dancing and making funny faces while I'm doing it. There is a reason why it's the song you are probably listening to as I'm typing this seeing as how its the first on my play list!
2.
Cover of the Rolling Stone
- Dr. Hook: This song not only cracks me up but it totally makes me want to dance around... I was introduced to this song by my more of a hippie than I friend, Jenna...and I will never listen to it aand not think of every single time it was on while we were driving and making fools of ourselves clapping and dancing around. I call her "My freaky old lady" because of this song!
3.
Forever Loving Jah
- Bob Marley: We will not get started on my love for Bob Marley, we'll never get to the end of it, I love this song because when you watch the video you can see and hear the heart he's putting into it....I am instantly mellow every time.
4.
Teach your Children Well
- Crosby, Stills and Nash: I remember my dad listening to this song when I was just a little girl... I have my father to thank for all my musical tastes, I grew up listening to classic rock suck as this, music is just not the same today!
5.
Couldn't love you more
- Sade: Sade can sing a love song like no bodie's business, hers are songs that with other put me in relax mode, her voice is beautiful....I couldnt love this song more if I tried!
6.
Come Monday
-Jimmy Buffett: I'm a Parrot head are you? Again, I have a flash back to 1990 my dad drink in hand, drunk of course, and blasting this song while he was cooking dinner...any Jimmy song immediately takes me back to my childhood...sometimes the memories are good sometimes their horrible...but even still these sorts of songs are literally part of who I am.
7.
Simple Man
- Lynard Skynard: My list just would not be the same with out some Skynard... I used to sing this song to Trevor when he was a lil guy... I want him to be a simple kind of man...and to take his time and not live too fast!
8.
Peaceful easy feeling
- The eagles: I got a peacful easy feeling listening to this song, and I do everything time... This is one of my best relaxation songs, it takes me to another place. (you have to watch the video, you'll appreciate it if you're an eagles fan!)
9.
My kind of Lover
- Billy Squire: Oh god...steering wheel pounder, practically screaming while Im singing, stereo blasting when this song comes on!
10.
I'm on Fire
- Bruce Springsteen: This song is haunting, and gives me goosebumps...another one of those songs, where I can just close my eyes and be in another place.
I hope you all enjoy these, like I said in one of my desciptions, these songs are very much a PART of who I am, literally from being a small child to now. I love and adore music, especially the songs I listed, and there WILL definitely have to be another My favorite things Muic edition!